Update - April 2007
The South Korean government has updated the screen you see when attempting to access censored sites. While the information is basically the same, the new screen contains your IP address - something I'm sure they were logging before, but nonetheless, a chilling reminder that big brother is out there watching ...
The new screen: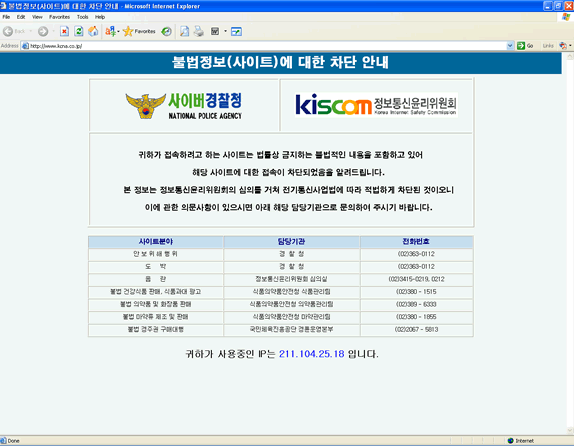 Original Story
On 26 March South Korea's Ministry of Information and Communication announced a new crackdown on Internet content (to read the announcement, in Korean, click here, to read a related news story from the JoongAng Daily click here). The focus of the announcement was on pornographic user-generated content posted on popular Korean portal sites - this after a porn clip made it onto Yahoo Korea for a few hours last week.
Clips deemed inappropriate will be ordered off the portals, visitors to banned sites will likely be greeted by messages like the one shown below.
The reason given for the new and strengthened measures was to protect Korean youth from the seedier sides of the Internet. While not in favor of censorship, I can't really fault the Ministry for its goal here.
What I can and do fault the Ministry for, however, is it's restrictions on access to websites it deems pro-North Korean - also announced as part of the crackdown. Recently, while returning to a site I had accessed frequently from Seoul a few years ago while doing research for my MA thesis, I was met with the screen below: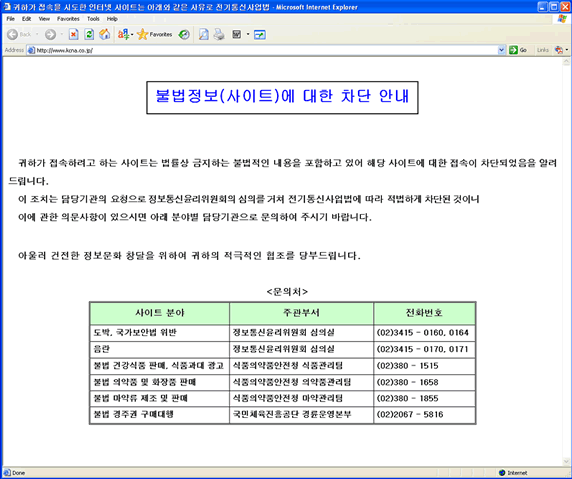 Rather than being allowed to view the website, the page above is inserted by the Ministry of Information (which seems an oddly Orwellian name, more suited for Pyongyang than Seoul) and warns me that the site I am attempting to access contains illegal information and viewing it is illegal.
The warning goes on to explain that if I have any questions I can contact the related Ministry office, then it gives the respective phone numbers broken down by 'team'. The first is for gambling and national security, the next is for porn, then illegal health food and other food items, illegal medical products and cosmetics, drugs, and finally, horse-racing related illegalities (which really made me curious about horse racing here on the peninsula, but I guess all of the really good info is blocked ...)
While some of these I can understand - there's no reason to allow buying crack, selling fake Viagra, and surfing underage porn sites; what's so horrible about news and information on North Korea? Are South Koreans, even kids, so ideologically fragile that reading a few stories on Kim Jong-il, a new boot factory in Pyongyang, and some Juche study group in New York going to forever damage their allegiance to the South?
The site I was trying to access, the Korea News Service (located, interestingly, in Tokyo), is North Korea's official news agency, and a great source of entertaining reading, plus insights into the North's way of thinking and subtle shifts in policy. Blocking this site says way more about Southern weakness and insecurity than it does about the threat from the North. Get a grip people - you won the race, the North's a basket case, and no one's going to abandon the South because they were able to read a few websites.
---
After reading over the contents of this article, I wonder if the issues it raises, and the apparently naughty words it contains (Kim Jong-il, Juche, Pyongyang, ...), will get it banned here in the South ... will simply uploading it to my server get me onto some sort of Ministry of Information untrustworthy list ... ?